Denver Bachelorette Party Ideas! Updated 2023 Guide.
Congrats, you've narrowed it down and picked a Denver bachelorette party weekend!! Now…time to prepare for the big event that might take even more planning than the wedding itself (lol). We are calling out to you, Maid of Honor, to plan the most unique Denver bachelorette party for your bestie bride. You probably want something exciting, memorable, and a little adventurous? But, where to start. Don't have hours to invest researching? Don't sweat, we've done some of the heavy lifting for you. This guide covers unique experiences to help you plan an unforgettable Denver bachelorette party.
What Are Some Denver Bachelorette Party Ideas for the Daytime?
Denver is full of fun and interesting day time bachelorette experiences, from circus school to shredding the slopes. Grab a coffee and prepare to plan!
Most "Instagramable" Bachelorette Photo Op in Denver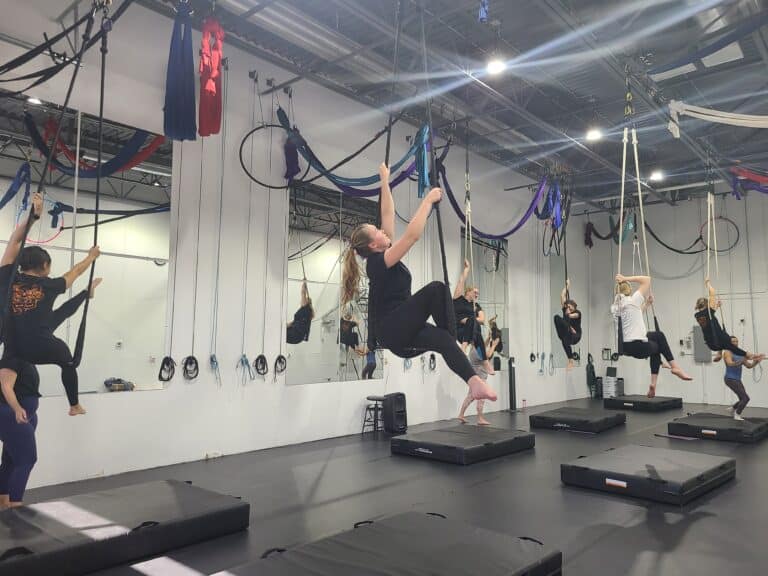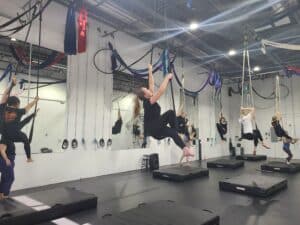 The most unique photo opportunity for a bachelorette party will certainly be flying on a trapeze. Yes, you read that correctly! At Aerial Cirque Over Denver, instructors teach your private group tricks on trapeze and aerial silks for 1.5 hours! This might be the most "instagramable experience" you'll find in Denver. Don't be intimidated, no one needs experience or any set level of fitness/flexibility – the coaches are pros and work with folks of all ages and abilities!
Most Adventurous Bachelorette Activity
You don't have access to world class skiing in all locations – Colorado is the real deal when it comes to shredding the slopes…or, cough cough, the bunny hill. All jokes aside, a ski lesson is an adventurous and unique opportunity you might only have in Colorado. You will need to account for some travel time – as all the resorts are outside the city of Denver. Loveland ski resort is the closest to Denver though, only an hour drive. They are also one of the most reasonable in terms of prices of group lessons. Don't have good transportation, or rather not drive in the snow? No worries! Hop on the Snowstang bus for a care-free ride to and from the resort.
Most "Mile High" Bachelorette Experience
Everyone has heard of the history of the "mile high" city. And…we aren't talking about elevation, folks! In 2012 Colorado voters legalized recreational marijuana use and haven't looked back! Join in for some Colorado 420 with the Blaze & Gaze: Graffiti Walking Tour. This walking tour begins with a visit to a local dispensary to pick up some goodies. After, head back to a private lounge to partake in the fun, if you choose. The tour culminates with a guided walk through the streets and alleyways of RiNo to view the murals. Your guide will share the stories on about ten different pieces during this gentle art walk.
Most Classy Bachelorette Experience
After an adventure filled morning, you're ready to relax in style. Try afternoon tea at the Brown Palace. Opened in 1892, the Brown Palace has become synonymous with Denver luxury. You and your pals will sit back and sip tea, topped with Devonshire cream direct from England, while laughing about your morning adventures and listening to the grand piano! Handmade pastries, scones, and tea sandwiches are also included in the experience.
Most Relaxing Bachelorette Experience
All bachelorette party guides suggest a spa day. But, a spa is a spa, and this is a unique experience guide only. Forget the ordinary spa and salon experience. At the Denver beer spa, you can enjoy massage chairs, soaking tubs, and nails WITH beer and other alcohol! We highly recommend the "beer bath" – soak in a tub of bubbly beer – steeped with hops, barley, and medicinal herbs, all while enjoying a cold one. This is a great one after an aerial dance class or morning on the slopes.
What are Some Denver Bachelorette Party Ideas for the Evening?
You've had a successful day enjoying Denver's most unique bachelorette experiences. Grab some food to refuel; the evening is yet to come! Read on for our top five picks for unique early evening and night life bachelorette experiences in Denver!
Most Sexy Bachelorette Experience
You've tried out being a circus performer at Aerial Cirque Over Denver. Now, it's time to watch some professionals! At the Clocktower Cabaret, you and your tribe can catch a burlesque, cirque, or comedy show depending on the evening. Let us recommend the burlesque if we may! The cabaret is located inside the historic Daniel and Fisher Clocktower, a Denver icon, in the heart of 16th street Downtown Denver.
Most Spooky Bachelorette Experience
Ghost tour and pub crawl? We're in! On this spooky guided walk, you'll visit some of Denver's most haunted buildings and bars, while stopping to enjoy beverages along the way! You meet your guide at 730pm and the entire tour lasts about 2.5 hours. Good news, you'll still have time after to party!
Most Captivating Bachelorette Experience
Another great post-dinner option is Meow Wolf – they are open until 10pm. What even is this meow wolf? In short, it's an immersive art experience based on a storyline about a cosmic event merging four worlds from different universes. Exhibits merge seamlessly from one to the next creating a captivating visual experience. You'll be able to see all the exhibits within an hour or 2. However, if you really want to interact and understand the story narrative, plan for more time. It might leave you as confused as fascinated, but you'll absolutely be talking about the experience for weeks to come!
Most Illicit Bachelorette Experience
Ok, ok, speakeasy's were only illicit during the Prohibition years. However, Williams & Graham isn't giving up the charade. Open until 1am, Williams & Graham is arguably the most well-known prohibition-style speakeasy, and for good reason. The dimly lit establishment hinds behind the façade of a bookstore! Enjoy some of the finest craft cocktails in Denver, as well as small plates and dessert. With only 60 seats available, be sure to make reservations. This is definitely a hidden jem that will make for a memorable experience!
Most Embarrassing Bachelorette Experience
No bachelorette is complete without some off-tune Backstreet Boys, and hilarious laugher over a night of karaoke! There are many places to chose from, but Punch Bowl Social is one of the best! Equip with a trendy bar and restaurant, Punch Bowl Social has private karaoke rooms you can reserve. So, it's just you and your squad laughing at each other not…you know, the entire establishment. Have a few in the group who refuse to participate? They also have a variety of games, like bowling, darts, ping pong, pinball, cornhole, marbles and shuffleboard. There's something to keep everyone entertained. Plus, Friday and Saturday they are open until 2am!
We hope you have enjoyed our guide to the best Denver bachelorette party ideas! If you end up participating in any of these awesome activities, or information is outdates, let us know!