Aerial Dancing looks hard! Can I really do it?
Yes, you can! Our instructors are professionals. We start slow and low to the ground to build strength, flexibility and skill level, progressing only as fast as you feel comfortable. After just a few classes you will be feeling stronger and more comfortable in the air! Our classes are arranged to develop your skills in incremental steps, and there is a class for every level. We've watched many students grow and go so far, not only in their aerial abilities but their self-esteem and self-confidence as well.
Where should I start?
If you don't have aerial experience, you should start in Aerial Basics or Aerial Work-out class to "learn the ropes." You'll get to try most of our different apparatuses, learn the basic techniques, and begin to develop the muscles and flexibility needed to progress. The most time gets spent learning on the fabric (silks), but you will also learn trapeze, lyra (hoop), sling, and rope!
Are classes for any age?
We do have classes that are age specific for our youth (ages 6 to 8), pre-teen (ages 9 – 12), and teen (ages 12 – 18) students. These classes are in what we call a "term" format, meaning they run from January through May (Spring term) or September – December (Fall term). For more info on these terms, go to the classes tab and find youth, pre-teen, or teen. Our normally scheduled classes are for any age as these are based on levels. Students will be grouped into similar age groups.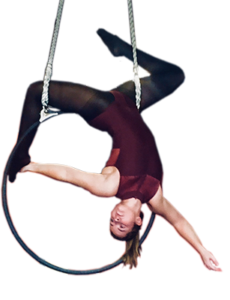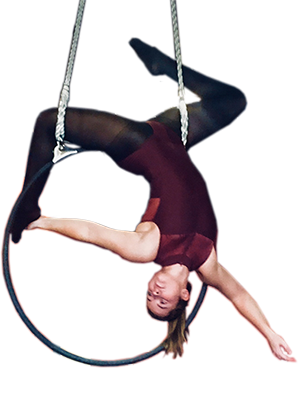 What should I wear?
Please wear leggings and have a shirt or light jacket that covers your arms if needed. The trapeze and hoop specifically can scratch the backs of your knees, so legging are best! Please do not wear jewelry of any kind (it can snag our fabrics and is NOT fun if it gets accidentally pulled out!!) or clothing with zippers or other things that could get caught on the fabrics.
Is it safe?
Yes! Our studio is the safest in Denver which sets us apart from our competitors! It was created by the structural engineers who designed RTD Denver to maximize safety. We also have a built-in, set-level, padded floor specifically for aerial arts and have additional gymnastics certified mats that we place under every apparatus when in use. Additionally, our instructor to student ratio is kept small to maximize instructor supervision and personal attention. Being the largest studio in the Denver area, there is also more space per student avoiding any issues with collisions.
Training and Private Lessons
We offer both open-gym sessions and private lessons. Open gym times can be found on our schedule here. Private lessons need to be scheduled with us, so please email us at dance@aerialcirqueoverdenver.com.
Can I buy a gift card?
Yes! We offer gift cards of any denomination. Please email us for details.
Group Bookings
We define a group as 3 or more people. If you would like to book a group party, please contact us at dance@aerialcirqueoverdenver.com. Discounts are not able to be applied towards groups.