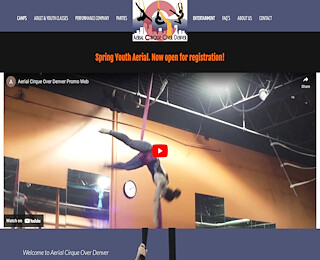 When you're looking for a new and interesting way to exercise, consider aerial classes. Aerial dance offers the perfect way to improve balance and fitness while enjoying a unique and fun type of exercise. One of the best options is aerial yoga in Denver. Aerial yoga offers a wonderful introduction to aerial exercise and combines the skills of traditional yoga. At Aerial Cirque Over Denver we offer a variety of classes including aerial yoga in Denver.
Aerial Yoga in Denver
Aerial yoga is a new way to participate in yoga. It provides a different option and is particularly fun for those who already know how to do yoga, although even beginners will enjoy the class. Aerial yoga in Denver utilizes a fabric hammock device that provides support and stabilization during yoga exercises. The long hammock hangs down from the ceiling suspended from a hook. The participant can use the hammock to hold the body in place during yoga poses.
Aerial yoga is especially helpful for students who want to try more advanced poses but were unable to in the past because they didn't have the support necessary. The hammock acts as an aid and holds the participant in place while trying the yoga pose. The device helps you try some of the more advanced poses such as handstands.
Professional Classes
Aerial yoga allows you to take your yoga poses to the next level. You don't need to be an acrobat or a professional to enjoy this type of yoga. The hammock is a silky but sturdy piece of fabric that is suspended from the ceiling and designed to support your full body weight. The fabric is adjustable so that you can maneuver it to assist you with whatever pose you prefer. You can use it to practice difficult poses that would otherwise require a trainer for assistance. It allows you to try a variety of things that you would normally not be able to easily achieve.
The class instructor will teach you how to use the hammock and will lead the class in the yoga exercise routine. The incorporation of the hammock into yoga classes boosts it into a more moderately intense workout than standard yoga provides. You will soon fall in love with the gentle support the device offers and will be ready to try new poses as you gain more experience.
Aerial Cirque Over Denver offers a large selection of classes including aerial yoga in Denver. Classes are taught by professional aerial dancers and the teachers are aerial yoga certified. This means that you'll be experiencing the best possible training with the most experienced teachers available. Our studio is fully equipped specifically for aerial training classes and our equipment is of the highest quality.
Aerial Cirque Over Denver offers other unique exercise classes including aerial dance, silks, trapeze, hoop and contortion. We also offer dance camps and host special events throughout the year. You can learn more about our fun and interesting classes online at Aerial Cirque Over Denver.com.  
Aerial Yoga Denver
We welcome your comments!