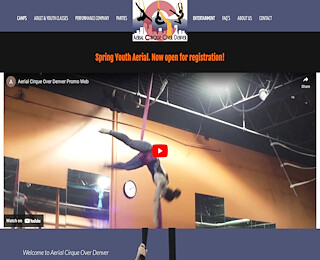 Aerial dance is one of the most popular new exercise and performance options sweeping the country. Aerial performances are unique and spectacular, with dancers who are suspended high above the ground. If you want to learn these skills you can do so by taking aerial classes in Colorado. Aerial classes offer a great introduction into aerial dance. Whether you are a beginner, intermediate or advanced dancer, you'll learn a lot and improve your skills with aerial classes in Colorado.
Aerial Classes in Colorado
When you want to learn aerial dance instruction it is best to learn from a top studio. Aerial Cirque Over Denver is the largest aerial studio in Denver. We offer a large variety of aerial classes in Colorado. If you are new to aerial dance you'll want to start with a beginner's class. Choose from aerial basics, aerial workout or aerial yoga as a great starting point. You will learn some of the basic skills and will be introduced to the apparatus used in aerial dance such as silks, trapeze and hoops.
Our instructors will provide you with the training you need so you will know how to properly use the equipment. The aerial basics class is ideal because you will alternate between the apparatus as you gain strength and flexibility. You can build on these basic skills when you take an intermediate or advanced course.
Build on Basic Skills
Aerial dance isn't as easy as professional performers make it look. It takes a lot of skill along with strength, flexibility and agility. After you are comfortable with the basics and have developed enough upper body strength you are ready to move to a more difficult course. You can build on your basic skills with help from our instructors.
Intermediate and advanced aerial classes focus on the different types of apparatus. Soon you'll be able to start working above the ground. As you become more proficient you'll want to add more difficulty to your routine. You can utilize a hoop and web that allow you to maneuver with various moves in the air. If you reach the advanced level you may want to consider performing. We offer a course that teaches you performance so you can create a beautiful routine and set it to music.
Facility and Equipment
Our facility was specially engineered for aerial dance. Our ceilings have hooks that hold silks and other apparatus securely in place. The floors are all fitted with padding designed for aerial work. We are the largest such facility in Denver with 3,000 square feet of space. We offer a large selection of classes for all ages and skill levels.
Our studio is also available for events and parties. You can hold your birthday or bachelorette party here for a fun and unique experience. An instructor will be available to provide assistance for your one and a half hour session. During that time you can try any of the available apparatus. When you are ready to take aerial classes visit our website at AerialCirqueOverDenver.com to learn more about our available options.
Aerial classes Colorado
We welcome your comments!