Special Events Happening at ACOD
Aerial Cirque Over Denver is proud to produce and host special aerial events featuring our professionals and high level student performers for the public to enjoy. 
UPCOMING EVENTS:
Performances for private events and commercials at our studio and at other venues.  Our Top Notch STUDENTS & INSTRUCTORS perform for numerous stage shows, private events, & studio events.
April 29, 2017
6pm  &  8pm  at Aerial Cirque Over Denver
Ticket giveaway to  LUZIA by Cirque du Soleil, opening June 1. under the Big Top on the Pepsi Center grounds. Winners will be announced at the Show!  To be entered into the drawing, sign up for Aerial Cirque Spring Camp, the 4-wk session, or buy a punch card! Tickets courtesy of Cirque du Soleil.
Our student shows have led numerous Aerial Cirque Over Denver students to professional performance opportunities and careers!
8964 E. Hampden Ave
Denver, CO  80231
SE corner of Hampden & Yosemite in the shopette
PAST EVENTS:  Some of our past events from 2006 – 2016!

Halloween's Haunted Aerial Show
"WINTER CARNIVAL IN THE AIR"
Aerial Show by our school-age students!  Magical refreshments!
CIRQUE du SOLEIL TRAPEZE & FABRIC MASTER CLASSES!
MOTHER'S DAY – "High" Tea
Treat Mom to an Electrifying Aerial Performance by Daniel Sullivan & A Delightful High Tea!


STARLIGHT AERIAL PARTY
Aerial Dancing to live Beatles music provided by The Fables
"SMILE with *Aerial Stars Over Denver* and Mandy Harvey"     March 5 and 6, 2011
Spectacular Live Aerial Dance Performances to Mandy Harvey Singing Live!
Mandy Harvey became deaf while a music major at CSU. She spent 2 weeks in her room, crying and wondering what to do with her life and her love of music. She decided to make more music! She started voice lessons – and a musical legend was born! Her instructor was amazed she could sing with perfection even though she couldn't hear! Mandy has captured the fascination of the music world and explains she is able to sing with such perfection by feeling the vibrations.  Her 1st CD is called "Smile", named for the title song.
*Aerial Stars Over Denver* is the performing troupe of Aerial Cirque Over Denver comprised of professional aerialists and top students, including the 2010 International Aerial Award winner for the "Most Spectacular Performer". Several have performed throughout the US, Europe, and other continents.
Aerial numbers include Aerial Net, a gorgeous apparatus that is not often included in aerial performances because of it difficulty.  A delightful aerial ballet number. Unique Fabric, Spanish Web,  Trapeze and Lyra numbers.
*Aerial Stars Over Denver* Exhibition & Reception
August 27, 2011
An evening of good food & stunning aerial stunts!

"Sing and Fly with *Aerial Stars Over Denver* & Lys Agnes"
November 12 & 13, 2011

The *Aerial Stars Over Denver* performing troupe performs live Aerial to Lys Agnes, a top 10 finalist in "America's Got Talent"!  Lys sings in her unique and dramatic style, combining Rock & Opera.  Experience her music as it "takes flight" at Aerial Cirque Over Denver!
STARZ ON DEMAND COMMERCIAL
Aerial Cirque Over Denver's Spring Showcase! 
An exciting International Event hosted by Aerial  Dance Over Denver to promote aerial artistry, creativity, & performance opportunities for recreational and professional aerialists while building a huge circle of friendships among aerialists around the world!  The event features a special Master Class to prepare you for  your Award presentation in the "Aerial Awards Show"! 
Categories for all levels!
Spectacular and exquisite aerial!
Aerial Cirque Over Denver, LLC is a full time Aerial Dance studio offering outstanding training on a variety of aerial apparatuses for kids, teens, and adults.  Come meet our friendly staff and excellent instructors in beautiful Denver, Colorado where you can enjoy glorious sunsets over the Rockies from our studio window!
Aerial Cirque Over Denver Spring Showcase
May 3, 2014  7:30pm
See students & instructors flip, spin, & fly through the air!

Celebrating its 5th year with a Red Carpet!
Hosted by Aerial Cirque Over Denver, 2014
The first ever Aerial Awards Weekend and Aerial Awards Show hosted by Aerial Dance Over Denver was in 2010.  It jump started aerial careers for over half the participants!  The tradition has continued!
Master class w/ renown performance coach Sally Smith!
"Aerial with SSSStyle!"

COLORADO CONVENTION CENTER – June 4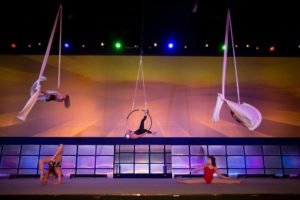 AERIAL CONTORTION w/ JADE   Back from NY!
Aerial Flexibility/Contortion is a fun, accessible, and intense workshop that allows you to grow your flexibility in new ways. Being in the air doing contortion stretching helps you to reach positions unlike before. You'll be amazed what this technique allows you to do!

 CIRQUE CELEBRATION SHOW
May 9, 2015   7:30pm

"WINTER CARNIVAL IN THE AIR"
See Stunning Aerial Acrobatic Performances!

December 5, 2015   7:30pm
"Spring Showcase"

  April 30 & May 7, 2016

Our student shows have led numerous Aerial Cirque Over Denver students to professional performance  careers!
Westin at DIA – Ribbon Cutting
w/ Mayor Michael Hancock